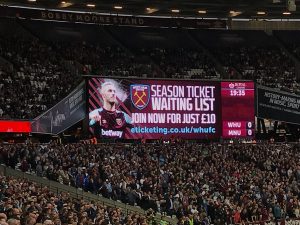 If polls are to be believed around 9,000 season ticket holders will give up their seats this summer.  The London Stadium survey suggests that around 18% will not renew when the 1st June deadline passes.  West Ham continues to claim there is a big demand to replace these supporters from their waiting list.
In February West Ham Vice-Chairman Karren Brady during a Supporters Advisory Board said the waiting list now stands at 48,000 of those fans who paid £10 for life.
What is unknown is how many of the 48,000 still want a London Stadium season ticket. The list was first launched in August  2014 long before anyone had stepped a foot in the former Olympic Stadium. No-one is given their actual number in the list and the club continues to promote the waiting list this year for more to join.
Some season ticket holders claim they received emails offering them a season ticket even though they already purchased one while others claim they remain on the list after turning down an option of a season ticket last season.
We call on West Ham to be transparent on the waiting list like other clubs by telling supporters their actual number on the list. They should also audit the current list of 48,000 as a matter of urgency removing those who no longer want a ticket and donate the £10 to a West Ham nominated charity.