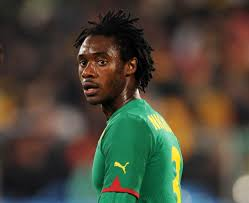 Nicolas N'Koulou is a rising star in the  French Ligue 1 and the established backbone of the Cameroon team currently in the African Nations Cup.
The 24 year old Marseille centre-back has been previously linked with Arsenal but now there is credible news that he is a Hammers target should Winston Reid leave the club in this transfer window. Named in the Ligue 1 Team of the Year in 2012 and 2013, N'Koulou has 51 caps for his country.
The centre-back has been a mainstay for Marseille since moving from Monaco four years ago, and certainly fits the Allardyce mould. He is big, strong and a powerful header of the ball, he looks the type of player that would fit right into the West Ham team. The Cameroonian international is currently out at the Africa Cup of Nations,  the French club might be more susceptible to a cut price deal as they are suffering a severe financial crisis.
N'Koulou started yesterday in Cameroon's 1-1 draw with Mali where he came up against Hammer Maiga who came on as a 86 minute substitute. West Ham are likely to take a keen interest of how he performs in the African Nations Cup.