ClaretandHugh was asked to write a piece for the London Evening Standard today. For your interest here it is from Page 62 of tonight's paper: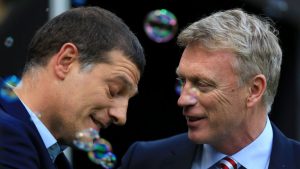 Slaven Bilic's day is done and Sgt Major David Moyes is on his way in to the London Stadium as the club's 16th boss.
One thing is guaranteed , a culture shock is about to hit a squad who have been under performing in the biggest possible way – a scenario which most Hammers watchers believe is down to a sub standard fitness regime!
The Moyes appointment has been greeted with howls of discontent by many among the Hammers faithful but it comes as no real surprise as he was the board's first choice to take over when they decided to let Sam Allardyce leave just over two years ago.
Many have already written the Scot off and are freely throwing the R word around as though Championship football next season is a given.
That's based largely on Moyes' Sunderland misadventure last season when the Mackems took the drop and are now bang bottom of the Championship.
There were however reasons for that – a refusal to allow him to bring in his own backroom staff and the decision to deprive him of transfer cash.
It's easy – but possibly misleading – to slam the man since some heady days at Everton after a bright start to his management career at Preston North End.
But let's be fair, he was recommended by Sir Alex as the right man to follow him into Old Trafford but the fellow Scot's long shadow engulfed him and ate him up. Not an easy act to follow
Real Sociedad was a  mistake and Sunderland is the job he shouldn't have taken given the circumstances he was offered by the club's board.
He now has a massive motivation too put everything right and restore what was once a great reputation – he couldn't have much more incentive. Another relegation is unthinkable in his terms
There have been many stories running around the club of late – that the players are 100 per cent fed up with the lack of intensity in training. Today the players have been given their normal day off when perhaps they could have been called in given the Liverpool disaster of Saturday.
Moyes is a different animal and once appointed will take no prisoners among any who believe they can relax.
He may just be the man  required amongst a squad that has lacked pace and fitness – a criticism aimed throughout last season and this.
He may not be everybody's cup of tea but all of us should be ready to give him a chance.