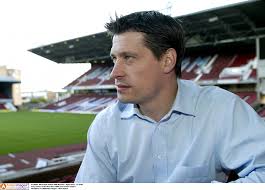 With Leroy Rosenior suffering from a sickness bug Tony Cottee has come to Claretandhugh's aid with a match preview for the match against Chelsea tomorrow!
Thanks TC and get well soon Lee!
I have to be brutally honest and say I think we will be beaten by Chelsea tomorrow night so if there's a point on offer now I'll take it now.
I'll  be in the crowd as a fan and I know precisely what will be going through the players' heads: "When the hell are we gonna get another win."
To be honest I didn't see the Palace defeat coming and with Chelsea and Arsenal now on the agenda there is a danger that we could lost touch with the European qualifying places.
However, the lads are off to Dubai for warm weather training tomorrow and historically they always benefit from those trips so keep everything crossed they come back refreshed and up for it.
We have to hope that Chelsea will still have their heads in the clouds from winning the Capital One Cup. It won't have been like the old days when teams went out on the lash but there could be a hangover as a result of the victory.
Like I say, I'd take a point now because the fact is that if we aren't on our game and they are on theirs we will probably lose because they have better players – simple as that.
But historically West Ham have always raised their game big time against top sides and nothing has changed this time around so hope springs eternal.
Once we get these next two games out of the way we can look to a run in and I think Sam will be setting the team a points target close to 60 points.
There are no easy matches but if we want to qualify for Europe next season that's about what it will take. It's achievable but there are a lot of games in there against struggling sides which makes it doubly difficult.
A point tomorrow night would be brilliant but they are a very in form side – the best in the land so it couldn't be tougher and I'm fearful.