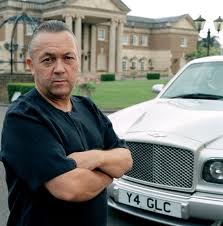 David Sullivan is using the international break as a time of reflection on a season which has passed most people's expectations!
He's a careful man who is keeping his feet firmly on the ground despite the tearaway start to the campaign.
He believes it's much too early to come to hard and fast conclusions but on one thing he is emphatic – Andy Carroll's future is at West Ham despite all the rumour-mongering to the contrary.
Speaking exclusively to ClaretandHugh said: " He's a very important member of the squad. He was sensational when he came on Saturday.
Earlier today he told us that the manager should not be judged before the end of the season as he spoke directly to the pro and anti Allardyce brigades.
He said:: "People are allowed their own opinions because we live in a democracy but judge him at the end of the season."
And as many declare the club has progressed out of all recognition, the chief shareholder and co chairman continues to keep his powder dry.
We asked whether he had been surprised at the progress we have made this season and his reply was typically cautious as he declared: "Yes and No! "In reality its too early to say the progress we have made, the season is 38 games not 11. However, we are scoring a lot more goals and playing much better football.
He added – in response to the suggestion that the board's more hands-on approach to transfers and the appointment of Teddy Sheringham – had seriously helped the cause: " Sadly, its again too early to say, but the signs are promising.
He wants to leave the Boleyn with a euro flourish  and said: " It's a very open Premier League so far. I said at the start of the season our target should be European  football.
He added: "Six teams, other than Chelsea, are not sucking the points out of the table as they usually do."