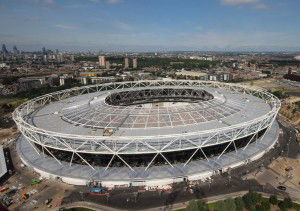 EXCLUSIVE
West Ham's will pay £2.5 million in rent for the use of the Olympic Stadium  on just 25 match days a year.
And should they need it on more occasions they will have to fork out another £100,000 PER DAY!
The terms of the deal between West Ham and the LLDC/Newham Council for the use of the Olympic Stadium has finally been revealed in an official press release.
It confirms the £2.5m per year in rent is to be the anchor concessionaire from 2016 on top of the club's £15 million investment.
The Irons appears to be paying more than a fair rent given the spin-offs which will be received from the stadium operator as a result of their tenancy.
An insider at the LLDC told ClaretandHugh exclusively: "West Ham get 25 days for their £2.5 million rent with extra days – and they can have as many as they want – at £100k a time.
"It's also fair to say that having West Ham in the stadium there dramatically increases the naming rights value of the stadium.
"The operators get between 85 per cent to 90 per cent from the profit of catering rights at their games which is huge to be honest."
The rent is index linked over 99 years with a rent reduction should West Ham be relegated from the Premier League
The real value of the West Ham deal to the tax payer will be the auctioning from the naming rights of the stadium after the Rugby World Cup.
Sponsors will want to be involved with the world brands of the Premier League and West Ham United and this will help push up the price to give London taxpayers a good deal over time to repay the £700m plus investment.