CandH exclusive: By Hughie Southon
West Ham appear to have confirmed that Lucas Paqueta hasn't broken anything in his shoulder and are hopeful he may even be fit for the game against Bournemouth on Monday evening.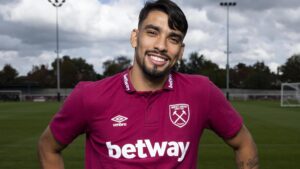 Only time will tell of course but as things stand the Brazil international could be fit sooner rather than later given the latest news of his injury.
Paqueta was of course missing from the game at Anfield last night which may have accounted for a less impressive performance from Gianluca Scamacca than usual.
The No 7 has revealed the special relationship the pair are striking up and the No 11's absence in that respect was certainly noticed last night.
In confirming that there were no breaks in the shoulder area a key contact told Claret and Hugh: "The player has some sort of shoulder and upper chest strain that has pain and swelling …a rest period may prove the answer."