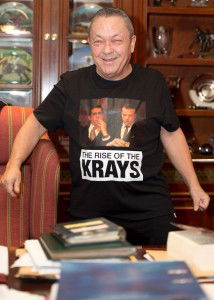 A new film focusing on the notorious Kray twins has been made by West Ham Chairman David Sullivan and former  Hammers Chairman Terry Brown.
Both acted as Executive Producers investing £3m in a film c0-written by Terry's brother Ken Brown. The film was shown for the first time at Cannes Film festival a few weeks and due for release straight to DVD in August.
Speaking exclsuively to ClaretandHugh this morning (Thurs) Sullivan told us: ""It's a seriously violent film. It shows the Krays as they really were, very violent and nasty people.
You feel shell-shocked at the end of the film. Its not some fictional tale that glamorises what they did. Its real story not the myth that has been created about them. People can own it from August 31st."
"All my life I've loved gangster movies. I can go back to The Long Good Friday, Gangster No.1 and my favourite, Get Carter. Well this movie is in that mould and I hope every bit as good. Ronnie and Reggie are East End legends, but we wanted to tell the real story. Not the myth. It's a challenge, but it's an exciting challenge.
"It's a full-length feature film. Eight-week shoot, £3million budget. It is a lot of money, but we haven't spent a fortune on artists. We've got two young guys, Simon Cotton and Kevin Leslie, to play Ronnie and Reggie, and they are just sensational.My Dad, every lunchtime, used to drink with the Krays' mum. I've got my own ­experience as well."
"When I started in business, I was in the adult ­entertainment business and we used to sell mail order. We used to get a percentage of cheques that bounced. So I used to write them a letter saying: 'I'm very sorry, your cheque has bounced sir. I'm sure this is a terrible mistake. We don't want any grief. Could you send us a new cheque or a postal order?' and I signed it – Sidney Kray.
They were banged up at the time and I thought it would just give me a little bit of an extra edge.Well surprise, surprise, Reggie writes to me from Leicester prison saying: 'How dare you use our family name! There is only one Kray family.
Fortunately, I went on to have a long ­correspondence with him. But I did think at the time: 'I'd better be careful otherwise when he comes out he might want half the business!'
See the trailer below