---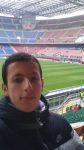 Our young starlet Declan Rice has been in the news all week on one front of another – now CandH's Player Watch reporter Danny Leach puts his every touch under the spotlight against Manchester United today.

3 – Plays a very good first time pass on the volley too Masuaku from midfield
3 – A through ball to Zabaleta on the wing is intercepted
9 – Wins the ball on the edge of our area after a bad touch from Lukaku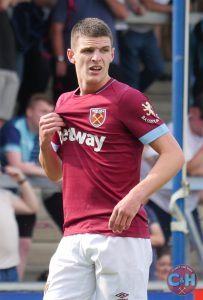 15 – Wins an aeriel duel with Lukaku before making a great pass out wide to Zabaleta
31 – Clears the ball from danger on the edge of our box but the ball only goes as far as Matic
36 – Does really well to tackle the ball off Pogba but he is fouled by Matic. However the referee continues play
44 – Makes a great sliding tackle on Martial on the edge of our box
52 – Allows Fellaini to turn on the edge of the box and get a shot away
67 – Intercepts a pass from Pogba to Lukaku and starts a counter attack
85 – Does Snodgrass a favour by recovering the ball after a poor touch by the Scotsman
87 – He blocks Fred's free kick when in the wall
Verdict – 8 – He was fantastic in midfield along with Noble and Obiang. He was constantly in the right position, making great tackles and producing great distribution from the centre of the pitch. He was also the most vocal in midfield communicating very well with his team mates. The only slight criticism is he could sometimes do better in 50/50 situations but he is progressing incredibly at 19. We must agree a new contract with him now!