ClaretandHugh Facebook member Brian Neil Gay ran the rule over new boy Simone Zaza this afternoon. Here he gives you a blow by blow look at his game and gives an overall verdct!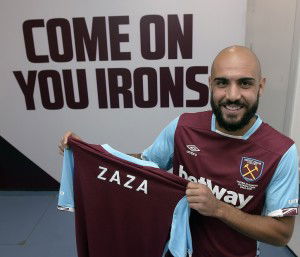 1st Half
01:00 First touch for Zaza, after dropping into our half for a Watford free kick, with a forcible overhead kick to set Antonio off in attack.
02:06 Closed down defender but missed challenge
03:43 Challenged for the ball but failed to win it
04:05 Wins a corner from a throw in
04:58 Positions in front of the keeper for a corner and draws the defenders out while Antonio gets on the end of the corner to score
07:15 Skilful touch to play in Byram
09:14 Touched out for a throw
10:00 Lanzini in attack , Zaza makes a fast diagonal run .
11:48 gets a yellow card for reaction to being deemed to foul in a challenge for a cleared ball.
14:06 Seems to have two or three marking him
16:07 Zaza draws defenders to the left as Antonio strides forward and misses.
17:17 Zaza with a decent one two with Antonio
17:40 Zaza holds up ball with Kabul on his back, laid off to Noble
23:00 Zaza with a follow up shot from a Payet free kick
25:15 Holds up and lays off  in our half
28:00 Zaza loses ball from keeper
31:00 Good touch launches an attack for Lansing
31.32 Zaza to the keeper for the corner
32.00 Payet crosses for Antonio to score, Zazzas movement was to pull away from goal to make space and draw defenders.
34:00 tries to intercept ball in our half but goes out for a throw
36:00 Again Zaza comes back to intercept  and keeps ball in play
37:00 Tracked into own half but failed to win challenge
38:00 Tracked back into our half as Watford win free kick
42:00 stands beside Payet who takes free kick just outside the box and hots a follow up strike which is easily blocked
43:00 Not sharp enough to run onto Lanzinis through ball
44:00 Comes to receive a thrown but not able to control
46:00 Zaza in space as Lanzini shoots
48:00 Wins a throw
49:00 Not able to gain control of the ball
50:00 Comes right back into own box to help defend a corner
51:00 Loses aerial challenge for ball cleared from keeper
54:00 Loses challenge with Kaboul
55:00 Holds the ball up and lays pff when he had a chance to turn and shoot on edge of 6 yard box
56:00 Wins a header
59:00 Tries to get on the end pf a through ball but is eased over by Kaboul
65:00 Wins ball
66:00 Cross comes in but not where Zaza is
69:00 Can't get on the end of another ball towards the box
72:00 Back in own box to defend a corner
73:00 Is caught static in box on attack
74:00 Tries to hold the ball up, lose it.
76:00 Zaza is subbed
Verdict
After a bright start when he looked up for it and a couple of one twos with team mates he struggled to get into or make an impact on this game.
His involvement faded in frequency as the minutes elapsed until his not unexpected substitution. If I'm being kind I would say his movement drawing defenders helped with the first goal and had an effect for the second.
He was closely marshalled by two and sometimes three defenders in the first half and after his yellow card didn't really display any real physicality in challenges.
Off the ball he was often moving around at walking pace not very often making runs …  makes me think he's going to take some time to adjust from the pace of the Italian league. 
I hope his lack of zip is down to lack of match fitness.
As for being a fox in the box he was never in the right place at the right time for us to see what his shooting boots are made of. Too early to judge if that's down to lack of understanding between new team mates or not.
Overall a debut to forget in a match the Irons will want to forget but his performance was not the reason we lost that is a whole other issue!