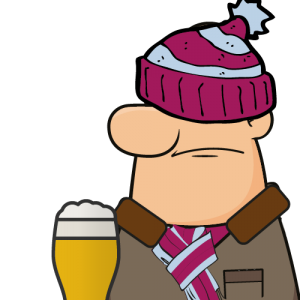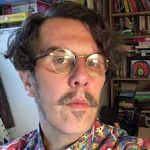 It's a magical moment in the lives of ClaretandHugh and Canning Town Len today as the main man comes on board the website with his amazingly confused 'take' on life at West Ham.
Len has become a real favourite among Irons fans and today – IN HIS FIRST EXCLUSIVE COLUMN WITH US – that other Hammers funny man Mike Manera of 'Mike on Monday' fame puts the questions that really matter to Len.
So settle down and be riveted by two guys who really know the score on all things Hammers …well sort of – in this question and answer session.
MM: Len tell me what Pie would you recommend for Pellegrini?
CTL: Apparently I've heard the geeza comes from a part of Brazil wot likes Chillies so  a spicy pie. I recommend the Chicken Balti Pie. I don't normally do all that foreign muck but it's a pie so it's mostly English.
MM: Do you think that David Gold refers to Pellegrini as "The Boy" behind his back?
CTL: I reckon Goldie and Sully might buy a couple of 'Boy's' behind his back unless we can draft in a director of football sharpish. Dunno really what a director of football does but I love a pint of Directors and plenty of football so Len is always available if needed.
MM: If West Ham was a type of beer or Lager, what would it be?
CTL: We're a can of beer. We get shaken up a bit, then froth up and get all excited to find we've wasted  a lot and then gone flat.
MM. "Two Pints of Larger and a Packet of Crisps" was a hit in 1980 for which band?
CTL: Nolan Sisters wasn't it? They should have left a couple of seasons earlier but I'm pleased to see them doing well at Nottingham Forrest County. Big Sam overused them towards the end but they were always in the mood for a bit of chicken dancing.
MM: Do you think that West Ham should have more English players? Or more Manuels?
CTL: We'll we've got Declan Rice which is a great start. I spoke to David Gold on the phone the other day and he was saying how disappointed he was that Nathan Holland was Dutch. Having said that his English is triffic and I've never heard him speak Hollish.
MM:  Who would win in a fight between Top Cat and Tom from Tom & Jerry?
CTL: No contest, it's a bit like West Ham v Brighton . . . . erm 'old on.
Wile E Kouyate is the best cartoon character by far though. That boy knows how to pace himself, I'm sure now he's rid of the Keith Lemon wrist injury he'll nail that bleedin Road Runner once and for all.