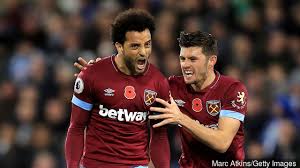 Aaron Cresswell was show to be still very much part of the manager's plans when taking over the armband during the win against Southampton.
There have been moments during the first half of the season when the possibility of a move has been quietly mentioned but his performance against Saints was such to make that sort of talk immediately redundant.
He linked with Felipe Anderson beautifully and looked to be  right back to his best. It seems impossible that he will mke way for Arthur this afternoon at Burnley.
But it's impossible to second guess Manel Pellegtini who is forever springing surprises in team selection and other related issues such as the captaincy.
Meanwhile Cressie has been discussing Anderson and the long term impact he can make on the team declaring that he can have the same sort of influence as Dimitri Payet.
Many of is cock a deaf 'un when that name whenever it is mentioned but it's easy to see the comparison and the left back said: "Every time I have played with him, going forward he's outstanding.
"You look at the amount of games he has changed for us and the amount of goals he has scored, his assists, the created chances, he has been fantastic and long may that continue.
"I can see him becoming a fans' favourite like Dimitri. He's a similar type of player, coming off the left, creating things and scoring goals. He is our top scorer now, he has been fantastic for us."
And Cresswell knows that, if Anderson continues performing the way he has been doing, then bigger clubs will start to take note.
He added: "That's always the way with football. Anyone who is doing well, there's always talk and always rumours. But if you ask him, he's happy. He's only just arrived."