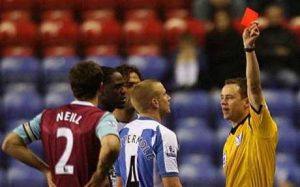 Stuart Attwell has been announced as the Premier League referee for West Ham's trip to Turf Moor this Saturday and the man in black hasn't officiated the Hammers since the fateful day in 2009 when he wrongly dismissed Carlton Cole.
As a young 26-year-old graduate he sent off the former Hammer in a Wednesday night game against Wigan. At the time Wigan boss Steve Bruce criticised Attwell, declaring "I don't think Mr Attwell is quite ready to step up to the plate."
Bruce commented after the referee sent off West Ham striker Carlton Cole – a decision so harsh that even Bruce, the opposing manager, objected. Attwell is the referee who awarded Reading their 'phantom goal' at Watford in 2008 when the ball crossed the line three yards outside the post. He is also the referee who, six weeks later, disallowed two perfectly reasonable goals for Derby, whose then manager Paul Jewell accused him of "ruining" the game.
Let's hope he has improved his skills in the last eight years since he refereed a West Ham match.