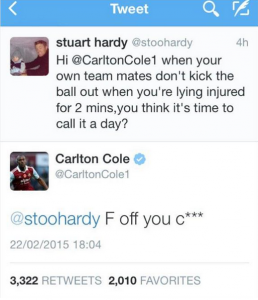 Carlton Cole faces a dressing down from the FA and or West Ham after telling one Spurs season ticket holder to "F off you c***"  on social media after yesterday's draw.
The message sent by Carlton just after 6pm on Sunday evening was in response to a tweet by Spurs fan Stuart Hardy who directed his message at Cole saying "Hi @CarltonCole1 when your own team mates don't kick the ball out when  your'e lying injured for 2 mins, you think it's time to call it a day?"
The message has since been deleted by Carlton Cole.
In 2011 Carlton Cole was fined £20,000 by the Football Association for comments he made on Twitter during England's friendly with Ghana.
It remains to be seen whether the FA  will accuse Carlton of bringing the  game into disrepute.