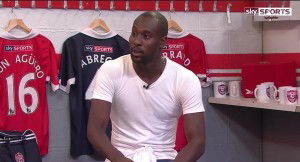 League baseball made its London bow at the stadium this weekend and Carlton Cole believes that's a big plus for the Hammers.
The Irons ambassador was on hand to meet stars from the  New York Yankees  and Boston Red Sox in the first regular season MLB fixtures to be staged in Europe, with the Yankees taking the first 17-13 in a 30-run thriller on Saturday.
The pair meet again this afternoon (Sunday) and Cole was thrilled to present the Yankees' Aaron Hicks – who struck London Stadium's first-ever home run on Saturday – and Red Sox's Mookie Betts with West Ham jerseys.
He said: "It's nice to have these events. It's great for the community, London is buzzing and we've got some superstars here over from America.
"So everyone knows about London Stadium and West Ham United. I've only been to a Giants game before when I've went to San Francisco, but next time I'm definitely going to the New York Yankees to see what it's all about.
"I've just said to the players I don't know much about the sport, but I'm going to be keeping an eye on the league over there. I love to see that you're bringing it to London because it's an opportunity for people to get involved and for it to become more of a worldwide sport."
ClaretandHugh says: Anything that spreads the word about the Irons to areas of the world where we are not too well known has got to be a good thing and therefore the baseball weekend should perhaps be welcomed. That it should have been Sadiq Khan who organised what was at one stage dubbed a 'vanity project' is ironic given his previous apparent dislike of all things Hammers before we settled down to an improved relationshjp with the stadium owners. There will be those of course who object to the corporate image being projected across the globe believing that the Hammers should perhaps remain more local and closer to the fans in this country. But that denies the way the game has developed and we can't be expecting better commercial spin offs unless and until the name of the club becomes better known in various parts of the world and if events like this weekend can help the process that surely has to be all to the good.