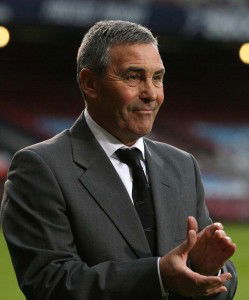 "I just remember him coming to the training ground, he was choosing which club he would sign for. He was a tall, skinny, skilful midfield player,"  West Ham Ambassador Tony Carr  has told the Press Association about first meeting of former Hammer Rio Ferdinand who retired from football this week.
"He had attacking instincts but the one thing that did strike me was his enthusiasm for the game, he just loved to play and that shone all the way through for me. In some respects some of that is missing from the game these days with some players."
"The environment that was created around the club at that time, it was – and is – a very welcoming club to everybody, parents and players alike. There was always a friendly voice or a bit of advice from anybody if any of the young players had problems – there were always people there for the players."
"He could do most things. He has a good left foot, a good right foot. He could run, jump, create things. He had a fine touch on the ball and an astute awareness of what was around him. It was obvious from the word go that the boy had a lot of talent."
"Where that talent takes you at that age you don't know but my first impression was that he was very talented and an all-round player. He had more all-round ability than a lot of young players at that time."
"He had most things that you would have needed to become a professional footballer. I never had doubts but you never know for sure. It was about making sure he was at the right club, which we felt was West Ham."
"It was very obvious that he had ability abound and could do everything asked of him. He only ever needed to be told anything once and he would grasp it and get on with it. I wouldn't say that I have seen a more talented player, a more all-round player than him."
"He wasn't the type of boy who would turn up and say 'I'm the governor here' but certainly when he came on the staff as an apprentice you could see the love and passion for the game and the confidence he oozed, the confidence in his own ability."
"That wasn't a hindrance, it was a real plus for him that he could go out and express himself and at a club that encouraged him to break out from the back."
"Remember he came as a midfield player and in his youth team days I convinced him to play centre-back, he didn't want to at first but certainly did in the end and became a world-class player through that."
 "I think there was a change afoot around that time, we needed to develop players that could break into midfield and play their part in that area. Obviously Rio fitted that to a tee, he read the game well and had good pace and anticipation. He could break into midfield and be effective. He was one of the first and the game in general started to encourage that.
"We are still looking at defenders now and it is important that they are comfortable on the ball and Rio is one who could do that in the most confident way.
"I'd like to think he has been truly appreciated. He has had all of the accolades, he has won the European Cup and Premierships – been to World Cups.
"He has been appreciated but anyone that hasn't appreciated his talents at his best they were blinded because he was one of the best all-round defenders this country has ever produced."