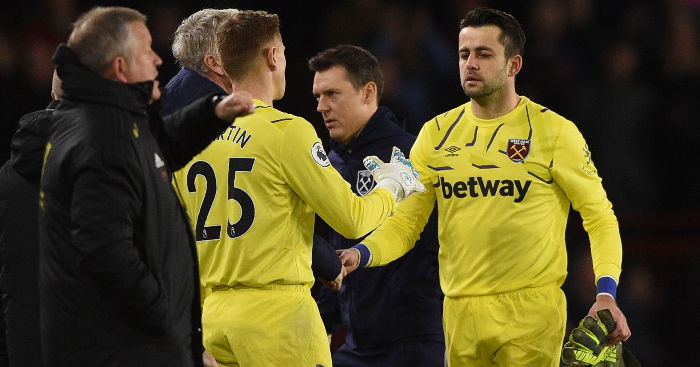 The old expression that all goalkeepers are crazy makes a lot of sense most of the time!
Outfield players can make a number of mistakes without taking anything like the amount of flak aimed at a stopper should he make one.
Lukasz Fabianski's game at Liverpool was the perfect example where he made a couple of uncharacteristic errors which immediately had Jamie Carragher rattling his cage.
It didn't take very long after the game for him to whine: "It's a big worry for West Ham. That was twice that the goalkeeper spilled it. And they were very lucky that there wasn't any Liverpool players to put it into an empty net. He just completely missed it."
Well, we have some news for scouser Carragher. We are not worried at all and had you been at the London Stadium for the match against Man City you would know why – he was fantastic and saved us a point with two or three brilliant stops near the end."
Big goalkeeping worries are such as Roberto who almost single-handedly could have put us down last season had we not given David Martin his chance before bringing back Darren Randolph.
Fab wasn't at his best at Anfield and hasn't looked up to the brilliant best he showed in his first season since his injury at Bournemouth.
He is also 35 years old and his contract is up in the summer so it is time to start looking for a new number one anyway which wouldn't be Randolph and neither Nathan Trott or Joseph Anang will be ready to step up.
Fab is still one of the best keepers in the Premier League at his best but time marches on and a replacement needs to be lined up.
In the meantime, Carragher may do well to not judge players on one match when they may have been a little below their best!
That's just bang out of order and makes him look a little stupid.