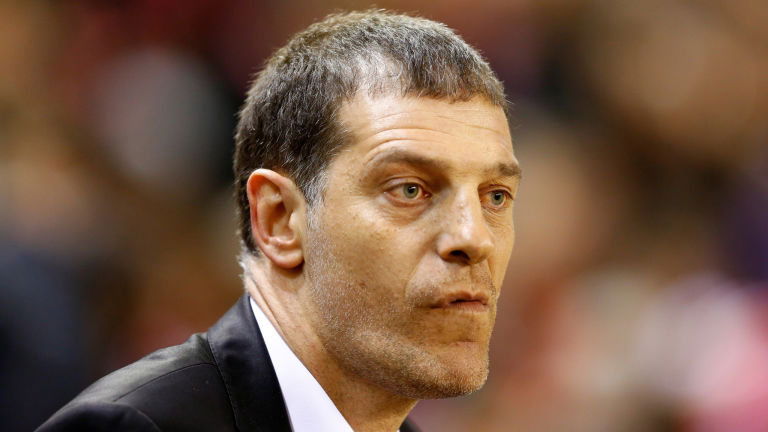 There's one question above all others from yesterday's game which is being asked on every CandH forum and needs an answer – not that we expect to get one.
How when you start a game with Chicharito as your main striker do you decide to bring on an entirely different type of striker when injury strikes given you have one on the bench that would suit your chosen system for the game far better.
That's what happened yesterday when Michail Antonio went down injured and instead of calling up Andre Ayew or Diafra Sakho,the West Ham manager  – seemingly unable to control himself – decided Andy Carroll was his best option.
Err WHAT?
This is not a criticism of AC but of the manager who seemingly is so locked into this Carroll thing he can't see beyond it.
Here's how one CandH follower saw it and it's difficult not to agree: " Ayew would've been an option but I'd have gone with  Sakho.
Instead Bilic, trying to keep the SAME system, put on an immobile centre forward, who drops deep and thinks he can play as a number 10, and switched another player to a position he isn't interested in.
That's not Hernandez's fault but he doesn't have much interest in tracking back and helping Zabaletta like Antonio occasionally does  so it was definitely  not a like for like replacement).
Indeed basically, it's NOT the same system at all."
Given that for the period before Antonio's injury the chosen system had worked just fine, is it any wonder that questions are being hurled in Bilic's direction again.
Frankly, there are many others but this is not the place to be discussing them right now.
However, it was on that one substitution that my own opinion started to shift significantly.
The obsession with Carroll, the various poor signings, the regular playing of key players out of position and the inability to find a position for Chicharito – WHOM HE CLAIMS TO HAVE COVETED FOR TWO YEARS – has me believing that maybe the time has come to say goodbye to a hugely likeable man who in the end couldn't hack it.
COYI