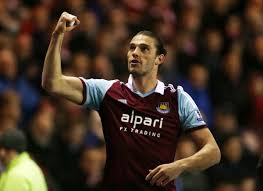 Andy Carroll has finally responded to critics who have claimed he doesn't look after himself in a way a big money professional footballer should..
The 25-year-old is hoping to be back training in full training with the squad in Octiober when he hopes to repay the faith shown in him.
Speaking to The Guardian he said: "I don't really care what people say to be honest.
"I know myself and know I've had problems. I'm not hiding away from that. Hopefully this is the last one and I get it out of the way. I just want to get back playing football.
"They have put a lot of faith in me, paying a lot of money. I don't feel I've let them down because obviously it's an injury that I couldn't have helped. I've done it in training and in a game.
"It's an injury that I don't want and obviously no one at the club wants. I do obviously want to be back out there, repaying the faith they put in me.
"I've got to take it slowly – obviously I've had a few niggles and problems in the past. I don't want them to carry on, so I've got to take it one step at a time."