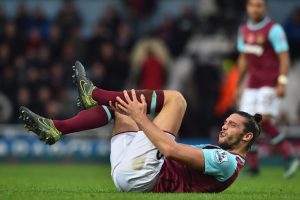 Andy Carroll is being pushed through what many believe may be the fiercest training regime of his career under new head of medicine Gary Lewin.
And the injury ravaged striker has responded well to the get tough regime designed to push him to his limits ahead of the new season.
He is currently involved in:
O double training sessions
O a fierce running schedule
O and punishing gym work aimed at discovering the slightest weakness anywhere which may need surgery.
The medical team appear to have made this a make or break period when he either emerges with a totally either a totally clean bill of health with regular injury worries eliminated once and for all or any existing issues are dealt with either by themselves or surgeons.
The Geordie has responded well to the new approach and thus far no niggles, which have been a recurring theme of the striker's career, have been discovered.
Former England physio Lewin could well become the man who gave Carroll a big new start although it would be a surprise were he to return to action before the match at West Brom in mid September.
However, an fears that AC would be continue to be wrapped in cotton wool have been removed as the striker is pushed to the limits.