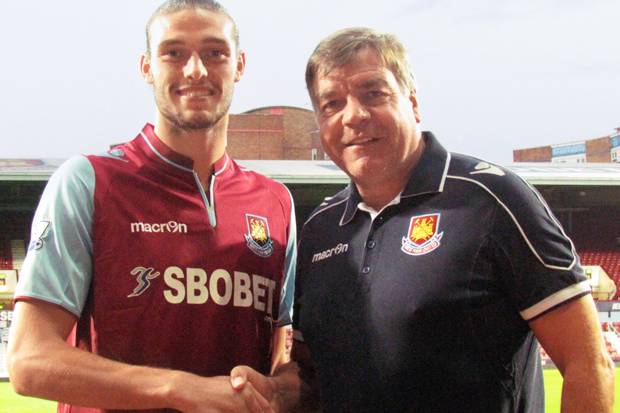 Andy Carroll has given his view of West Ham's run of form since Christmas and reckons: "We've "just been unlucky in the way games have been going!"
Carroll – who has been on the injury sidelines since being injured at St Mary's against Southampton in February – appears in The Mirror bigging up Sam under a headline declaring: "We (pink heart) Big Sam.
Commenting the £15 million signing said: "Everyone loves him, everyone loves the training and the routine we are in. I am sure all the lads want him to stay next season.
"The manager is strong enough to deal with that (run) and I think so are all the players. It is just unlucky the way the games have been going."
However, despite being told by Allardyce not to be so frenetic on the pitch as it could lead to injuries Carroll may have cocked a def 'un declaring: "It is just the way I play – aggressive. In training I am not like that.
"I take my foot off the gas a little bit with our players but as soon as I am on the pitch, I don't think anyone can stop me running about like I do throwing myself into challenges."
COMMENT: Yesterday The Mirror rolled out Southend boss Phil Brown in support of the manager and a few days ago Cheik Kouyate appeared on their website explaining how much he loved the 60 year old.
No problem with anyone having a view and possible agenda – like most of us – but two days on the trot in a national newspaper which has 91 other teams to cover!  Hmmm