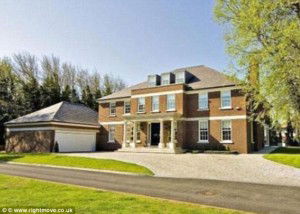 West Ham crocked striker Andy Carroll has settled out of court over accusations that he trashed his luxurious former home and failed to pay rent, according to lawyers who were suing him for £200,000.
Landlords Jeff and Dawn Grant claimed Carroll damaged antique furniture and fittings, removed plates and TVs from the house, and left it in such a state that it needed more than £48,000 of repairs and cleaning.
They claimed the player missed £68,000 of rental payments on the £2m mansion in Hall Road East, Blundellsands to the north of Liverpool.
Court papers issued in 2013 on London-based solicitors acting for the player alleged that Carroll took away £75,000 of furniture and expensive stereo and CCTV systems.
Among the areas of the mansion worst affected were said to be the marble-tiled dining room, which leads on to the pool complex and Jacuzzi, and which contained a considerable amount of antique furniture. Items such as a barbecue, garden lounger and an air hockey table were also said to be damaged. Court papers claim chairs needed to be re-upholstered and mirrors replaced, and smashed glass was left in the swimming pool area.
Carroll denied owing the Grants any money and claimed he placed a number of items in storage in a bid to protect the £15,000 deposit he paid on moving in to the house.