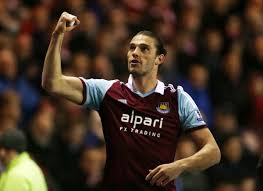 Andy Carroll doesn't believe England will win the World Cup!
The West Ham striker- having returned from holiday – is gearing up for a great tournament in Brazil and believes we can do "really well this year."
With nine caps already, the big fella would love to have been a part of things but clearly bears no grudges.
And speaking to www.whufc.com about the likely outcome he is tipping Brazil.
He said: "I think it will be great for England to go out there with so many lads playing so well in the Premier League at the minute, so I think we can do really well this year."
"It's going to be tough with the weather and everything so I'm going to have to go for Brazil.
"Brazil have got a great team and they are the favourites for me.
"They'll have all their fans out there and they know what it's all about, so I can't see anyone else winning it."