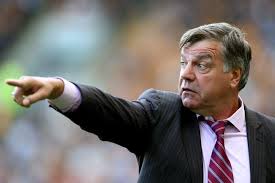 Manager Sam Allardyce won't predict a West Ham win over Manchester United this weekend but he knows how it feels to beat them at Old Trafford.
He did it twice with Bolton in successive seasons — and on the second occasion United went on to win the title.
And looking at their 5-3 reverse at Leicester City last weekend he implies this is not a normal United side
He told The Sun: A normal United would have regrouped and won 5-3 at Leicester, not lost. You don't expect them to go under like that.Apparently they are in transition.
"But we've been in transition too and, while ours has been smooth, theirs hasn't. We've brought in nine new players and eight have gone out.
"We go there feeling confident but not over confident. I might have won there twice but I also got done 7-1 when I was at Blackburn, so I've seen both sides.
"Our win over Liverpool was a great boost for everyone, coming against a team which should have won the title last year and has been tipped as a challenger again.
"I didn't want to hear all that nonsense about catching them at the right time and them having an off-day. We made Liverpool look average because of our performance.
"Sometimes you can get a result out of being resilient and defending, then catching them on the break or scoring from a set-play. But we did it with attack, attack, attack."
He's delighted with his new signing and smiled saying:  "Enner ( Valencia) is battered and bruised and all the lads are going, 'Welcome to the Premier League, son'.
"And Alex Song is loving it. He couldn't wait to get back in the Premier League. He told me there was no point being at Barcelona if you're not playing."