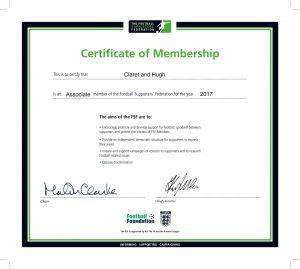 Claret and Hugh are proud to continue its association with the Football Supporters Federation (FSF). We have renewed our membership with FSF on behalf of our 68,681 registered loyal website users.
With an average of 1.5 million visits per month Claret and Hugh remains one of the most read West Ham sites on the Internet and the main Hammers news site within the West Ham community.  In August we registered over 1.3 unique visitors with over 2 million visits in the run up to end of the transfer window.
The Football Supporters' Federation (FSF) is the democratic organisation representing the rights of fans and arguing the views of football supporters in England and Wales.
Campaigns include the fight for safe standing, lower ticket prices and the protection of football clubs. Members are made up of individual fans and members of local supporters' organisations throughout the professional structure and many more from further down the football pyramid.
Find out more at http://www.fsf.org.uk/about-us/