West Ham United Joint-Chairman David Sullivan has made a further donation to enable Irons Supporting Foodbanks to provide 5,000 Easter eggs for local youngsters in Newham. On top of 300 Easter eggs donated by the Club, Mr Sullivan has made a personal donation of £4,000 to Newham Foodbank after learning that it would otherwise have fallen short of its target to deliver to children.
Mr Sullivan has been a regular supporter of the fan-led organisation, which collects food and cash donations for Newham Foodbank in Beckton to be distributed to families in need.
Last year, the Joint-Chairman made personal donations of £3,500 to cover the donations that Irons Supporting Foodbanks would have collected at the final five home games of the 2019/20 season, which were played without fans present due to the COVID-19 pandemic, and £1,500 to the Merseyside PPE Hub which provided 1,300 protective visors to east London and Essex hospitals and care homes.
And in November, when the Joint-Chairman heard the Newham Foodbank needed a new delivery van to collect donations and deliver food and clothing across one of England's most deprived communities, he made a further £18,000 personal donation.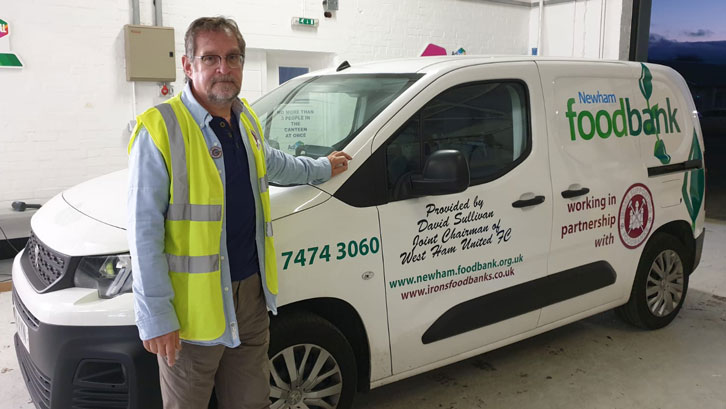 This followed Mr Sullivan making a personal £25,000 donation to FareShare UK, which will go towards free meals through the Child Food Poverty Taskforce, founded by the inspiring Marcus Rashford MBE, while the Joint-Chairman has also donated to homelessness charity Crisis at Christmas for five consecutive years.
Friend of Claret and Hugh John Ratomski, from Irons Supporting Foodbanks, welcomed both the Club's and Mr Sullivan's donations to Newham Foodbank at a time of year when many youngsters have to go without a traditional Easter treat.
He said: "Once again, we are delighted to receive the support from the Club with the donation of the 300 Easter eggs for Newham children, as well as of course another personal donation from West Ham United Joint-Chairman David Sullivan, who has ensured well over 5,000 Easter eggs will be distributed throughout the borough by Newham Foodbank and a network of church foodbanks from Stratford to North Woolwich."