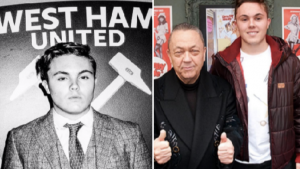 Son of West Ham Chairman Dave Sullivan Junior gave an interview the Sports Bible about West Ham.
Asked whether he believed that Jack and himself would be the next chairmen of West Ham?
"I personally think Jack is more likely to be the chairman of West Ham, however I would still like some input. Jack is currently working with the Ladies team in order to gain the experience he needs. Jack is also looking into working with clubs in other countries. Whereas I am focused on my own project and West Ham is not in my immediate future.However I will still retain my shareholding and one of the Sullivans will be the chairman."
Is there is definitely no chance of West Ham being bought?
"No. If a Saudi Arabian investor could take West Ham further than we can, then no. We would want someone who can take West Ham a lot further than we ever could."
Is your dad looking into the possibility of buying the London Stadium outright in the future?
"I cannot comment on that, but it is certainly a possibility."
Radio 5 discussed on their show last week about the possibility of the retractable seating at the London Stadium being upgraded. Is this something the club are looking at?
"We are always looking for ways to improve the stadium, so if we think it will increase the fans experience then of course it is an option. However, in the immediate future I do not think so because it has already cost a lot of money to install the normal seating. I reckon it could happen, but not for a few years."