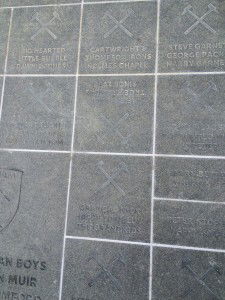 Many supporters have struggled to find their names or inscriptions on champions stones in the new Champions place for which they have spent up to £499 to have their names inscribed.
West Ham's Vice Chairman, Karren Brady says those who have purchased Champions stones will get an email next week to show their location of their stones.
Brady tweeted yesterday: "We are sending an email early next week to all purchasers with their specific location"
What is less clear is whether the thousands of supporters who previously bought bricks at the Boleyn Ground and were promised a free granite stone will also get an email highlighting their stone location.
Although Champions Place is still under construction many supporters who visited the area on Thursday and Sunday expressed concern over the visibility of the writing on the granite and how long it will last as many looked faded after installation. One stone above appears to have been installed upside down.
The champions statue plinth in Champions place remains empty as no agreement can be found between Newham council and West Ham on for the relocation and funding of a replacement of the world cup bronze sculpture in Green Street.