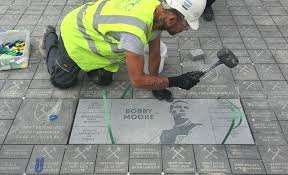 Supporters who bought Champions Stones after March 2016 are still waiting for them to be installed some 14 months later.
Over 12,000 stones were installed at Champions Place outside the London Stadium before the 14th March cut-off but thousands of supporters who purchased stones after that date have been left in limbo.
West Ham hopes to install many of the stones over the summer before the season starts again in September but with a full music concert and Athletics programme in June, July and August even that might be in doubt.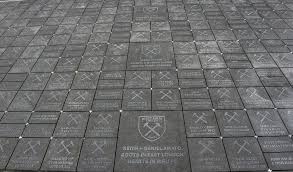 Some disgruntled fans fed up with waiting have already been refunded money for their stones after they complained while a source close to club admitted they may have to refund all supporters if progress is not made over the summer by subcontractors employed by the club to do the work.
One supporter who purchased a stone after March contacted Claret and Hugh earlier this week and forwarded on an email from the club which can be found below:
"Any stones purchased prior to Monday 14  March, 2016 were installed at Champions Place during the summer of 2016. For any purchase made after this date, a confirmation email was sent to each supporter expressing that their stone would be installed as soon as practically possible and advising to monitor the Champions Place website and the Club's official communications channels for further updates. This is also outlined in the Champions Place FAQ's.
"The Club announced the 

full opening of Champions Place

 back in December 2016, saying that any stone purchased would be installed at the end of our first season at London Stadium. We could not carry out these works during the winter months as the poor weather could've had a long-term effect on the installation process and it was vital that we took the care to preserve the clarity and integrity of the stones.
I am afraid that it is not possible to install each stone incrementally, on a stone by stone basis, and any work must be undertaken with one full panel of stones at a time. A large working area is therefore required and, due to the high footfall around the Stadium during the football season, it was always the intention of the Club that phase two would take place during this closed season, ready in time for the start of the 2017/18 campaign.
With the last home match of the season now played, the Club hopes to be in a position to announce installation dates for the next phase imminently. Thank you for your patience and we will be in touch with you personally with further information as soon as possible. In the meantime, should you have any queries please do not hesitate to contact us."