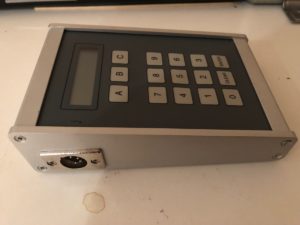 Last weekend I took part in the Hammers Chat 24 hour stream-a-fon in aid of Isla Caton.  Geo interviewed me in a Jeremy Paxman style for over an hour as he and the Hammers Chat team raised over £4,000 for young Isla when their marathon was complete.
As part of the interview which you can see below, I donated a piece of Boleyn Ground history to be auctioned off for Isla.
The one of a kind collector's item is the remote control for the Nautronics Scoreboard which once displayed scores at the Boleyn Ground.
Shortly before the Final Score film crew moved in and the bulldozers I could to fulfil an ambition of playing a CD containing Bubbles on the loudspeakers around the Boleyn Ground at a Charity match from the control room. Although much of the stadium had been stripped bare for the auction, the remote control remained connected to a cable so I decided to save it from the skip and liberate it as an important part of West Ham history.
The current bid is £110  as I write this article. All bids should be sent by Email to HammersChat@Gmail.com  Auction closes this Friday 7th June at 8 pm
I will ship the item to the winner anywhere in the world at my own costs. All proceeds go to Isla Caton.  Good Luck.  Any questions please ask!