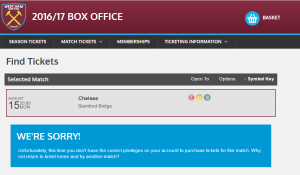 Chelsea away sold out in just four hours this morning.  The Hammers were allocated 3,000 tickets at Stadium Bridge at£30 each for the opening game of the Premier League season on Monday night 15th August.
West Ham introduced a new online away ticket system at 9am morning but just after 1pm this afternoon all 3,000 tickets had been snapped up by season ticket holders despite the game being live on TV.
Only supporters with 4 priority points or more will able to purchase a ticket today.
The new ticket system was not without it's complaints, some season ticket holders complained their priority points balances were wrong and some with four priority points were unable to buy tickets at 1pm when the system incorrectly claimed they didn't have enough points.
Supporters who tried to buy Chelsea away tickets at 2pm were greeted with a message that they didn't have enough privileges to buy tickets when in fact the allocation had been sold out.
Supporters inundated the post sales helpline for help waiting up to 27 minutes to be told the game had sold out. West Ham removed the link to buy Chelsea ticket from ticket website around 2.15pm this afternoon.