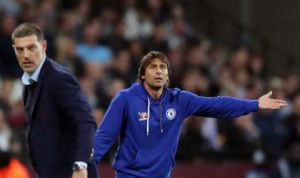 Chelsea boss Antonio Conte has pleaded for the "right atmosphere" at Upton Park this evening.
The Italian boss declared: "Last time wasn't good. I hope in this game our fans, the West Ham fans, enjoy totally the game and find the right atmosphere. In England, it's very strange for me to talk about this — usually in every game you find the right atmosphere.
"The last game against West Ham there was an exception. But I hope, on Monday, to find a good atmosphere in the stadium. I think the players, the club, the country deserves this."
He added: "This game against West Ham, for us, is very important. In the last away game, the way we played against Burnley, we drew. They played very physical football against us.
"Maybe it can happen, the same, against West Ham on Monday. But for this reason we are preparing for this type of situation. It will be a really tough game."