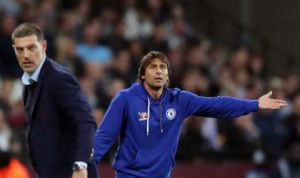 Chelsea boss Antonio Conte has warned his squad of the Andy Carroll threat.
As the league leaders prepare for the massive London derby the Italian declared: "Andy Carroll is a really good player, very strong physically and we must pay great attention.
"But we must pay attention to the whole West Ham team because in the League Cup they beat us.
"We are preparing different solutions to limit the strengths of our opponent, but it's important for us to play our idea of football, bring our philosophy, try to play, score, defend very well and play with high intensity."
It will be a difficult game. We all know the difficulty of derbies, but we are preparing very well for this game, in the right way with great commitment and focus.
"For sure it will be a tough game and also we will know the results of the other teams, so there will be positive or negative pressure. But we are ready to play this game and try to do better than last time."
Eden Hazard expected to shrug off a knock received in training, Chelsea will be at full strength for Monday's derby.