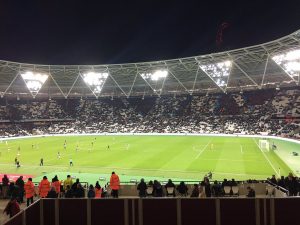 The London rivalry between Chelsea and West Ham supporters continued on Monday night. Over many years West Ham fans have sung about Chelsea's lack of history, about their found new plastic fans and about where the thousands of glory hunting fans were when they were rubbish in their wilderness years.
Last October's game against them in the EFL Cup was one of best if not the best atmosphere's in the London Stadium and again we sang the old classics to them including where to stick their blue flag.
However, Monday night was different, the atmosphere from home fans was more subdued and the away fans had the upper hand from noise and the banter on this occasion.
It was Chelsea fans questioning West Ham's new home and suggesting we have sold our soul to move into our new home.
Chelsea fans chanted "You're not West Ham anymore" and "You sold your soul for this s#*thole"
They also mocked the number of empty seats by chanting 'They're here, they're there, they're every-f**king-where, empty seats, empty seats..'