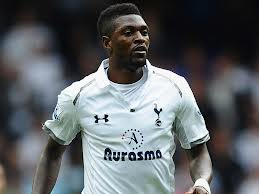 West Ham's summer hopes of doing a deal for Tottenham striker Emmanuel Adebayor may be threatened by interest from Chelsea.
According to new reports this morning Jose Mourinho is considering a move for the striker he took to Real Madrid.
Were he to move for Adebayor the 31 year old may have to consider the lesser of two evils – presumably having few first team chances at Stamford Bridge or playing second fiddle to Andy Carroll at Upton Park.
Mourinho is reported to be looking in Adebayor's direction as the one year deal for Didier Drogba, 37, runs out this summer.
A Hammers source refused to rule out their interest in the player saying: "All balls are in the air – we were interested in January, why wouldn't we be now!"