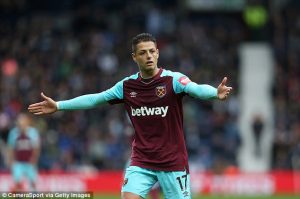 Chicharito has revealed his head is now 100 per cent at West Ham!
The Mexican was recently reported as saying that he wanted out of the club but has now declared that he is totally dedicated to the cause.
Speaking to the official site he said: ""I always try to be a professional and now my head is here 100%.
I will dedicate myself 100% to this team as I had done in all the clubs I have been in, to save us from relegation, which is the goal that we all have, from the coach, the players, all the staff who work at the club, and then also the fans – we will do everything possible to do it.
"Now we have to prepare this week for our next match is against Watford, a very complicated opponent, who changed their coach and will be hard to beat."
"We got to be at our best to stave off relegation. Two weeks ago we were in tenth place, in the middle of the table practically.
"Then, you can have two bad results and you are down, or you can have two very good results and you are up. This is how it will be. We obviously want to be more consistent, which is obviously the key to saving us as soon as possible and not suffering going into the last days [of the season]."