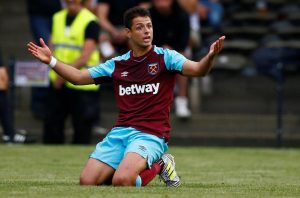 Chicharito was caught by TV cameras yesterday not celebrating with his teammates after Marko Arnautovic's late third goal which he assisted. The Mexican briefly lifted up his arm to celebrate his assist but then remained motionless as the others celebrated away from him.
Hernandez was also about to head straight down the tunnel when the final whistle blew before he was told to join his team mates to thank the 1,700 away West Ham fans who braved the cold and the rain to watch the Hammers on the south coast.
Last month Moyes denied he would have problems working with Hernandez again saying "He's a top goalscorer, a brilliant finisher, It was difficult for him at United because I had Robin van Persie, Wayne Rooney, Danny Welbeck, Shinji Kagawa, so there was lots of competition. But he'll be treated the same here – if he's playing well and scoring, no problems. If he's not, it will be the same as the rest."
Hernandez has not played a full 90 minutes under Moyes since the Palace 2-2 draw in October. At the Liverpool loss, he was taken off after 72 minutes. For the league game against Arsenal, he came on at 82 minutes and managed another 11 more minutes at Stoke away. At the Newcastle game he had a bit part again coming on at 79 minutes while he came on at the 61-minute mark against Bournemouth.
Does Chicharito's body language tell a bigger tale or is it just frustration at not starting?
At £16m transfer fee and £145,000 per week in wages you have to ask if we are getting the best from the Mexican striker?