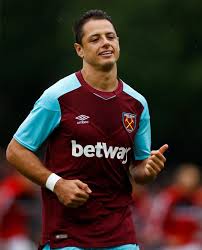 Javier Hernandez has given an interview to the official website to dispell speculation that he is not happy at the club. Rumours were flying that he was unhappy with David Moyes for his lack of starts and that was the reason he didn't celebrate the third goal at Bournemouth.
However, a club source told Claret and Hugh that he was just frustrated that he didn't score the goal himself which Arnautovic followed up and his body language on camera was nothing more than personal frustration at himself for missing a goal.
"We have three games this week and they are all very important for the Club, and I hope there will be opportunities for all the players to help the team," Chicharito told whufc.com.
"First, we play West Brom and we are fighting for our lives here, so we want to get the three points as well. Then, after that we have a derby match and it's a nice one with Tottenham. The last time we went to Wembley, we were very happy with the result in the Carabao Cup, coming back from 2-0 down to win 3-2, so we have good memories of playing against Spurs there.
"Then the week ends with the FA Cup, which is a competition I would love to win in my career."
"Not only for footballers, but for everybody, the most important thing in life is to be healthy and to enjoy it and to do what you love most, which in my case is football. I am very happy and glad to be back. I'm always going to give everything for the team, whenever I am on the pitch. I love football and I want to be as professional as I can, both inside and outside the pitch, if I am given one minute or 90 minutes, and I will try to do my best.
"If you ask all footballers all over the world, they will tell you they don't want to be on the bench, and that's a normal thing. They all want to play and I'm trying to prove that I want to be involved with more minutes, with more starts, and then we'll see what happens [when I'm on the pitch]. I'm never one to talk about a single player, be it myself or other players, as all the goals, all the results and all the points we get are because everybody is giving 100 per cent to help the team in the way we want to do it.
"That's the only thing on our minds at the moment, to give our best to try to get into a better position."