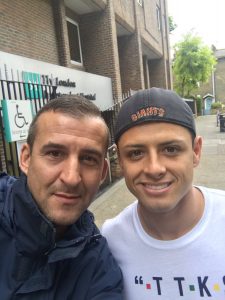 West Ham are now hoping to announce Javier Hernandez as their new player this evening after the Mexican jumped straight off a ten-hour flight from Mexico to complete a medical in record time.
A two part medical was scheduled to be completed over two days with  Chicharito expected to be unveiled on Tuesday.
However, the club and medical staff were  working flat out this afternoon to announce the signing tonight after the player shunned resting up after his long haul flight and wanted to get on with it.
A club source said "A medical has been taking place and it is touch and go whether the results come back tonight or tomorrow because blood and heart test tests usually take more than a few hours"
"We would love to have it all completed this evening in order to make  an official announcement but if that is not possible, all things equal, we will do so tomorrow"
The Mexican International was pictured this afternoon with West Ham fan Dan Smith outside the BMI The London Independent Hospital in Stepney when he was undergoing a medical.
He will now put pen to paper in the next few hours and the West Ham media team are busy preparing an announcement together with the first official photos and quotes from the 29-year-old. The waiting could soon be over.
As DG would say Don't go to bed!