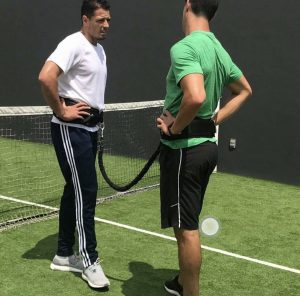 Javier Hernandez spoke to Mexican TV from the West Ham Germany training camp on the day he arrived on Thursday. Such is the excitement in Mexico they had TV trunks and live feeds the from Germany camp for the event. For Spanish speaking West Ham fans, the video can be found below but thanks to a Spanish speaking supporter we can give you a summary of what he said.
He says that one of the main attractions to come to West Ham was the confidence Slaven Bilic has in him. He said he is very happy to be here and very hungry and up for the challenge of trying to achieve what the West Ham management team believe is possible including European qualification. He goes onto discuss the irony of starting his West Ham career and debut at his old home of Old Trafford.
He says he isn't sure when he'll play a game because he isn't quite match fit yet – he explains things dragged on a bit with the move and getting a visa in Paris sorted so he hasn't trained for a while.
He says he loves being back in the Premier League, which he regards it as the best league in the world. Says he isn't one to be comfortable and but wants to excel with the Hammers.
He doesn't believe he is assured an automatic place in the Mexican team and wants to develop more as a player to ensure he establishes himself in the national team given it's a World Cup year. He was asked if he will miss playing in European competitions this season. He says of course but that's life.
Thanks to Alex Moore for translating for us.