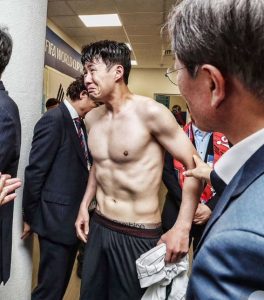 Spurs forward Son Heung-min left the World Cup game against Mexico in tears after failing to qualify for the next round.
Chicharito's winning goals left the Spurs player upset for more reason for one. Son scored a late goal in South Korea's 2-1 defeat to Mexico at the World Cup on Saturday , but the loss has all but eliminated them from the tournament following their opening defeat to Sweden. South Korean law dictates that all males from the country must be conscripted before the age of 28, with Son turning 26 on July 8. However, exemptions are made for high-profile sports stars who achieve success for the country.
The South Korean team which reached the semi-finals of the World Cup in 2002 were all granted exemptions, as are Olympic gold medal winners and gold medal winners at the Asian Games. The South Korea men's team which won bronze at the London 2012 Olympics were also granted exemptions. Instead of the two years' service, they are required to do four weeks of basic training as long as they remain in their sport for three years.