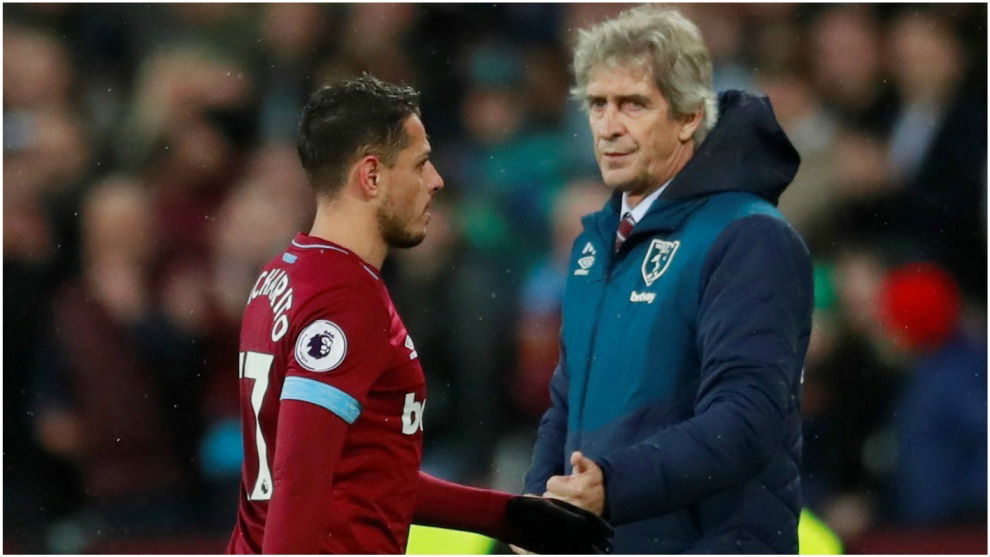 Chicharito and boss Manuel Pellegrini  are right onside with each other at the moment with the striker determined to repay the faith being shown in him by helping deliver a place in the Europa League.
And the manager  – at the same time – has revealed  he is very happy with the Mexican's form – and pleased with his options as Marko Arnautovic is back on the scene.
Valencia were of course very keen on Chicharito in the transfer window but the Hammers were determined they would not woo him away on a cheapie £7 million insisting that he would not be allowed out on loan and £12 million was the fee they were after.
Given his form over the last couple of games it is starting to look a very good decision and the player looks and sounds happier than at any time since he arrived and determined to repay the boss.
Chicharito said: "I want to thank the boss and all his staff because I'm trying to be in my best shape. I hadn't scored that much but they have given me their trust and the most important thing is that the team is getting the results.
"That's the great thing about internal competition, we're all fighting for a starting spot, we all want to play as much as possible.
"I want to thank the coach by playing well, which is the best possible way. Now we're going to think about trying to get into the European places.
"This club is in a transition in which it wants to qualify every year for Europe, that's the idea and that's why they hired this coaching staff and a lot of players."
And today in his presser Pellegrini said: "Javier is in a good moment, he is committed to the team, he is making good movements in attacking areas. Maybe, as is the case for all strikers, they want to score more goals but he is always involved in ways that allow us to score. 
We also have Marko Arnautovic coming back so we have options for the starting XI and also for the bench.
I always say that for a manager it is more difficult when you don't have players. Maybe one of them for different reasons must wait, or they can play both together, but having good options is a solution for me, not a problem.
I