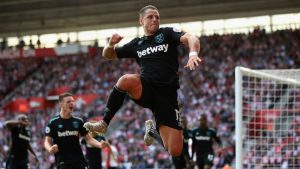 Chicharito is all ready to step up to the plate ahead of the World Cup finals in the United States at the end of this month.
Hernandez will be part of the El Tri squad for friendly international matches with Iceland and Croatia and the striker is looking forward to representing his country again after reaching his 100th cap against Belgium.
He said: "This is the best feeling for me, in my job and my sport, to wear the green shirt of Mexico, whether I'm playing at home, in Europe or in the United States, where will play our next two game
"Every stadium we play in, we see Mexicans, as we have a lot of fans all over the world who support our national team. It's been a pleasure every time I pulled on the shirt and it will be a pleasure every time I pull on the shirt in the future.
"These are important games for us, too, against Croatia and Iceland. They will be tough friendly matches, but we have the World Cup coming up soon and these matches, as well as the games we have against Wales and Scotland at the end of the season, will give us a good idea of where we are ahead of the tournament in June."