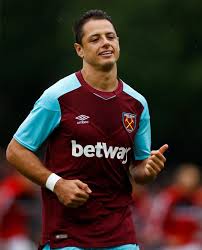 Chicharito will take the first half positives from Selhurst Park into the match against Liverpool  next weekend.
The Mexican grabbed a typical 'fox in the box goal today and said afterwards: "I always say I'd prefer to win matches and change those goals to points.
"But yeah it was good feeling for Andre Ayew and me. We are both strikers and we scored one goal each."
The 29-year-old insists  the side will look to take heart from a positive first-half showing adding: "It's disappointing because we got a good advantage in the first half with two goals.
"We were two goals up but unfortunately they fought and we couldn't hold them, and then they scored in the last minute. The feeling is disappointment obviously because we felt like we could win this match.
But he was delighted with the support the travelling faithful gave the team saying: ""They were great. They are always great.
They always come and they always support us. You can see a very big amount of West Ham supporters and we just want to say thank you to the supporters."