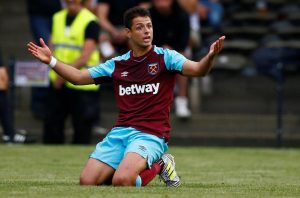 Chicharito has told the Hammers players that they simply lost to a better team at Old Trafford and must now "improve and keep working."
The Mexican striker said: "Of course, it could have gone better for me and for us. Nobody wants to lose 4-0 on any pitch in the world, but they were a little bit better, more ruthless and after the second goal, things went very positively for them."
"They are Manchester United and they finished us off.
"We did everything and we tried to play as well as we can, but Manchester United pushed us a little bit back because they are a great team.
"We had chances even after they scored their second goal, when we had a header from Arnie which hit the crossbar.
"It's the first game of the season and obviously we are not happy with the result. We played a team who were in better form than us. We can say a lot of stuff, but that won't change anything if I say it.
"We lost to a better team and now we have to improve and keep working."