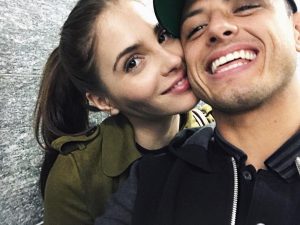 Spanish football website donbalon.com says Hammers striker Chicharito is not a completely happy man in East London and is considering a move in January to be closer to his girlfriend.
A report in Don Balon today says the Mexican striker is head over heels in love with the Spanish actress Andrea Duro and knows that remaining in England is making his relationship more complicated and he wants to play in Spain.
The Spanish actress has allegedly warned him that if he wants to be serious about their relationship he should consider coming to live in Spain.
The report further claims the Mexican striker has sent his agent to the Spanish market to try to sound out a potential move to either Valencia or Sevilla, two teams said to be of Chicharito's liking.
Whether this is a fake news article completely made up to cause trouble remains to be seen.