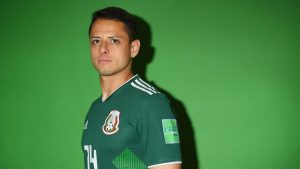 West Ham United supporters can watch Chicharito test his skills against the very best when the Mexicans take on World Cup favourites Brazil on Monday afternoon.
The game will be shown on ITV1 and ITV Hub and the Hammers striker will hope to demonstrate why he is key to not only his nation right now but also to his club under Manuel Pellegrini.
The match – against the five times World champs – kicks off at 3pm on ITV1 and the ITV Hub and despite a shock 0-3 defeat in their final Group F game, the Hammers striker and his fellow countrymen is ready to overturn the form book.
Mexico advanced as Group F runners-up after losing 3-0 to Sweden, who topped the table, with South Korea's shock 2-0 win over Germany eliminating both nations, but Chicharito dismissed the suggestion that his country had been fortunate.
In an Instagram post he said: "We did not advance thanks to Korea, but thanks to our own work [in beating Germany and South Korea in our opening two matches].
"We did not lose because we are stupid, but in fact we qualified and gained consciousness because we had a big rival and mentally we saw where to improve.
"It remains clear that we have everything to gain and we need to keep working, especially mentally and emotionally.
"Let's enjoy the qualification [for the Round of 16] and let's learn from our mistakes. Support us, even if things do not go as you would like."