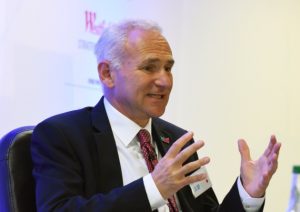 London Legacy Development Corporation CEO David Goldstone, was paid £263,000 last year including £39,000 in bonuses, £26,000 in pension contributions and £1,000 in expenses making him one of the highest paid civil servants in the land despite the London Stadium suffering transformation overspend making massive operating losses during the same year.
His 2016 salary an eye-watering increase of 51% on his 2015 salary of £129,000 when he held exactly the same position at the LLDC.
In June Julian Cheyne, of pressure group Games Monitor the organisation which is ultimately responsible for the former Olympic Stadium and the park is un-necessary by saying "The LLDC is an entirely unnecessary layer of bureaucracy in East London which appropriates anything and everything being built in the wider Stratford area as an Olympic Legacy even though these developments would have been happening anyway."
John O'Connell, chief executive of the TaxPayers' Alliance, previously said: "These figures are astonishing. How on earth can the Corporation justify these pay rises at taxpayers' expense when ordinary families as well as public sector workers have faced pay freezes or worse over the last few years?"
Goldstone will soon leave his post at the LLDC to become the new CEO of the Ministry of Defence next year which will double his salary package again to over £500,000 with a £250,000 basic and £250,000  in bonuses.
The LLDC is searching for a new CEO with a basic salary of £196,950 plus pension and bonuses. Applications closed on 13th October with interviews scheduled for 8th December.