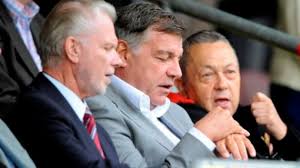 Claretandhugh has launched a new poll into Sam Allardyce's West Ham United future following the 2-0 defeat of Spurs which secured the Hammers Premier League future.
But unlike the previous poll organised by 16 independent Hammers websites this offers multi choices.
The previous poll asked simply whether he should stay or go and resulted in a 78 per cent vote against him but ClaretandHugh's owner Hugh Southon said: "It's perhaps not that straightforward for many fans.
"We wanted to give them as many options as possible and have included four ways to vote:
1/ Thank him but say goodbye at the end of the season
2/ Allow him to stay on until his contract ends at the end of next season
3/ Allow him to stay long term and into the Olympic season; or
4/ discover whether they are in two minds and simply can't decide.."
Southon added: " The previous poll was launched at the middle of a very bad run of results and in order to be as fair as possible.
"We have set this one up after the deadly enemy Tottenham Hotspur were beaten for the third time this season.
"However, people feel about the manager we believe this poll will give a more definitive and clearer view on him."
Vote at https://www.claretandhugh.info/the-ultimate-sam-poll-vote-now/
 Follow on Twitter @hughsouthon