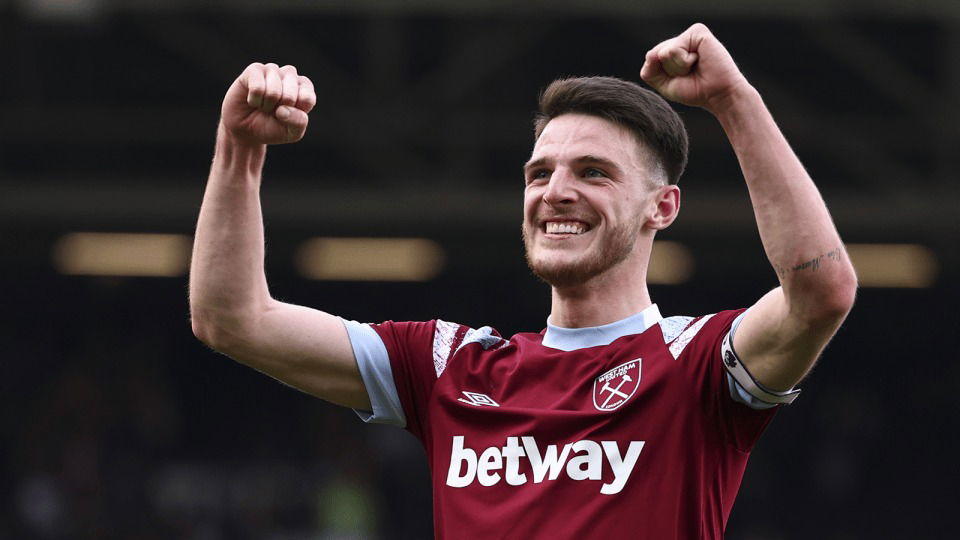 Declan Rice represents class, class and more class,
Nothing is ever about him and him alone…his entire attitude to life is about bringing others into the limelight as he demonstrated in Prague last night.
A fine article in The Times demonstrates the character Arsenal – or whoever he joins this summer will get when he departs the east end
It explains how At the Fortuna Arena, we watched an ugly game followed by an explosion of beautiful scenes with David Moyes' dad dancing to Free From Desire, West Ham's emotional Czech players draped in their  national flags, players' children, from teenage boys to tiny girls, playing in the goalmouth where Jarrod Bowen had scored.
And then we had Rice. And, typical of the man, it says,  he gave much of the moment away to others. It explains how he waited, last in the queue for the podium as the one who would receive the cup, while team-mates filed up but he kept seeing support staff and left the line to hug and thank them.
It goes on: 'Then, after inspecting Bowen's man-of-the-match bauble and sharing a word with his chairman, David Sullivan, he stopped to wave to the West Ham fans.
Finally, he received the Europa Conference League trophy from Aleksander Ceferin, yet it was still not about him. Instead of the normal, solo captain's lift he held the silverware low as he tiptoed theatrically, with a goofy grin on his face, over to the team. And now, at last, surrounded by the rest of the squad he thrust it to the sky as ticker-tape rained.
The giveaways: throughout the whole sequence, Rice wanted to make it about other people. There was no superstar moment, no image created of him displaying the trophy alone. As a last act for a football club, it reeked of class and of him.
None of it was surprising. This is a 24-year-old international footballer and household name who still goes back to the social club at Dickerage Lane Recreation Ground in Kingston upon Thames — his stomping ground as a kid — to see old mates and play snooker. In these last few months it feels like Rice has pulled off the most remarkable feat. He has managed simultaneously to convey his desire to quit West Ham yet also the feeling that playing for them is the biggest joy of his life.
Leaving someone, while making them feel more loved than ever? That takes a special personality. Rice's departure from West Ham, with a summer transfer accepted as inevitable by the club, has seemed one of the cleanest, happiest exits ever seen. As he was interviewed on the pitch, having handed Mark Noble the trophy, West Ham fans sang "too good for Arsenal".
The pressure was on him here. The responsibility of trying to lead West Ham to their first European glory in 58 years, the chance to join Bobby Moore and Billy Bonds in lifting a trophy for West Ham. All in his final game. But as has always been Rice's way, he met the challenge head-on. 
And, in the end, there was that golden lifting of the Europa Conference League trophy — Rice's immortal West Ham moment and a parting scene he was happy to give over to others.
By Hughie Southon